Evo Combi - 4-axis grinding center for machining the periphery and 2 K-Lands in a single clamping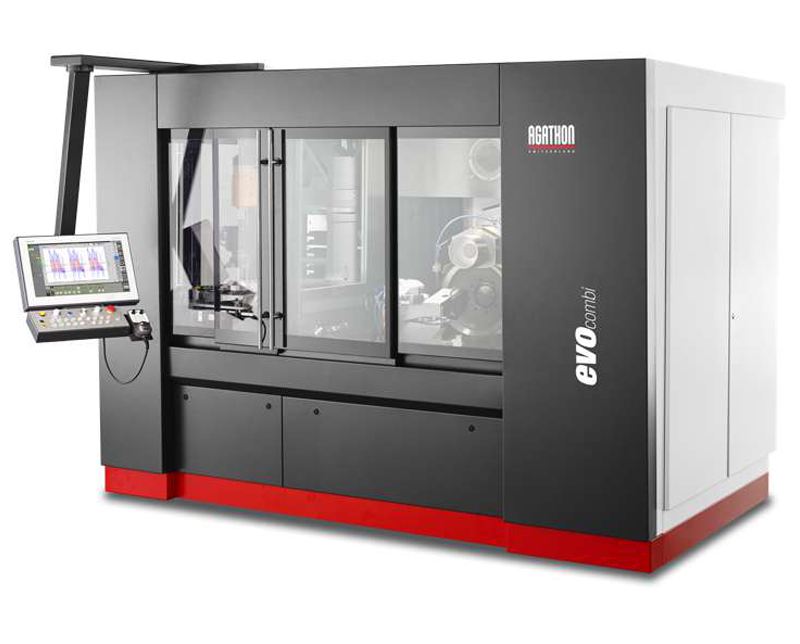 Handling
● Agile SCARA Handling
● Two pallets in the work area for separation of blank and finished parts

Compatibility
● Standardized, compatible Agathon tools
● Consistent Agathon operating philosophy and software
● Unique, domain-specific programming language for indexable inserts

Optimized Drives
● Extended travel ranges and swivel angles for the production of indexable inserts without re-clamping
● Fast, enduring B-axis, optimal for round inserts
● Direct drives with optimized performance for the X, Y and C axes
● Internal and external dressing devices can be combined
● Grinding wheel diameter 400 mm

Connectivity
Extensive possibilities for Connectivity and Data Management.
Evo Combi - basic machine
Proven design with good accessibility
Extended travel ranges and swivel angles for the production of indexable inserts without re-clamping
Fast, enduring B-axis, optimal for round inserts
Direct drives with optimized performance for the X, Y and C axes
Internal and external dressing devices can be combined
Grinding wheel diameter 400 mm
Grinding area separated from handling area
Two pallets in the work area for separation of blank and finished parts
Technical Data
| | |
| --- | --- |
| Number of pallets | max. 16 |
| Grinding cup Ø | 400 mm |
| Dimensions (L x W x H) | 3.06m x 2.10m x 2.22m (with lamp 2.60m) |
| Weight | 6500 kg |
| Swiveling range of C axis | -140° bis +140° |
| OD | IC | max. 100mm (120mm) | min. 3.96mm |
| Workpiece – Clamping dist. | 28.5mm |
| Materials | Carbide, Cermet, Ceramics, CBN, PCD |
Ease of use
Excellent visibility
Workpiece spindle head close to machine front for better access
Consistent Agathon operating philosophy and software
Unique, domain-specific programming language for indexable inserts
Simple re-teach
Proven, perfectly integrated automation
Comprehensive training program for programming, operation and maintenance
Selected Options
Electro-erosion conditioning process (PowerGrind)
Robust U-axis for in-process cleaning, sharpening and profiling
2D force measurement system for normal and tangential forces for the process definition, optimization and control
Extensive possibilities for Connectivity and Data Management
Vision system for parts alignment and spot recognition
The outstanding advantages of the Evo Combi
Low cost per workpiece
Shorter grinding times thanks to very high material removal rates
Short transfers due to agile handling and internal dressing
Complete machining without re-clamping
Standardized, compatible Agathon tools
Fast product change due to off-line programming and graphic simulation
Up to 50% cycle time reduction with PowerGrind
Low-maintenance components
Flexibility (materials, process)
K-Lands on both sides without re-clamping
Extended swivel angles and travel ranges for significantly more geometries
Free combination of various dressing methods
Largest possible range of applications from IC 3.96 mm to OD 100 mm
Suited for all common indexable insert materials
Reduced energy requirements through consistent Eco-design
Maximum availability
High autonomy with storage for up to 16 trays
State-of-the-art, low-maintenance drives
Short changeover/set-up times
Designed and manufactured in Switzerland
Fast, competent and efficient
Any questions? We'd love to answer them.