Agathon Care 360 – Service from One Pro to Another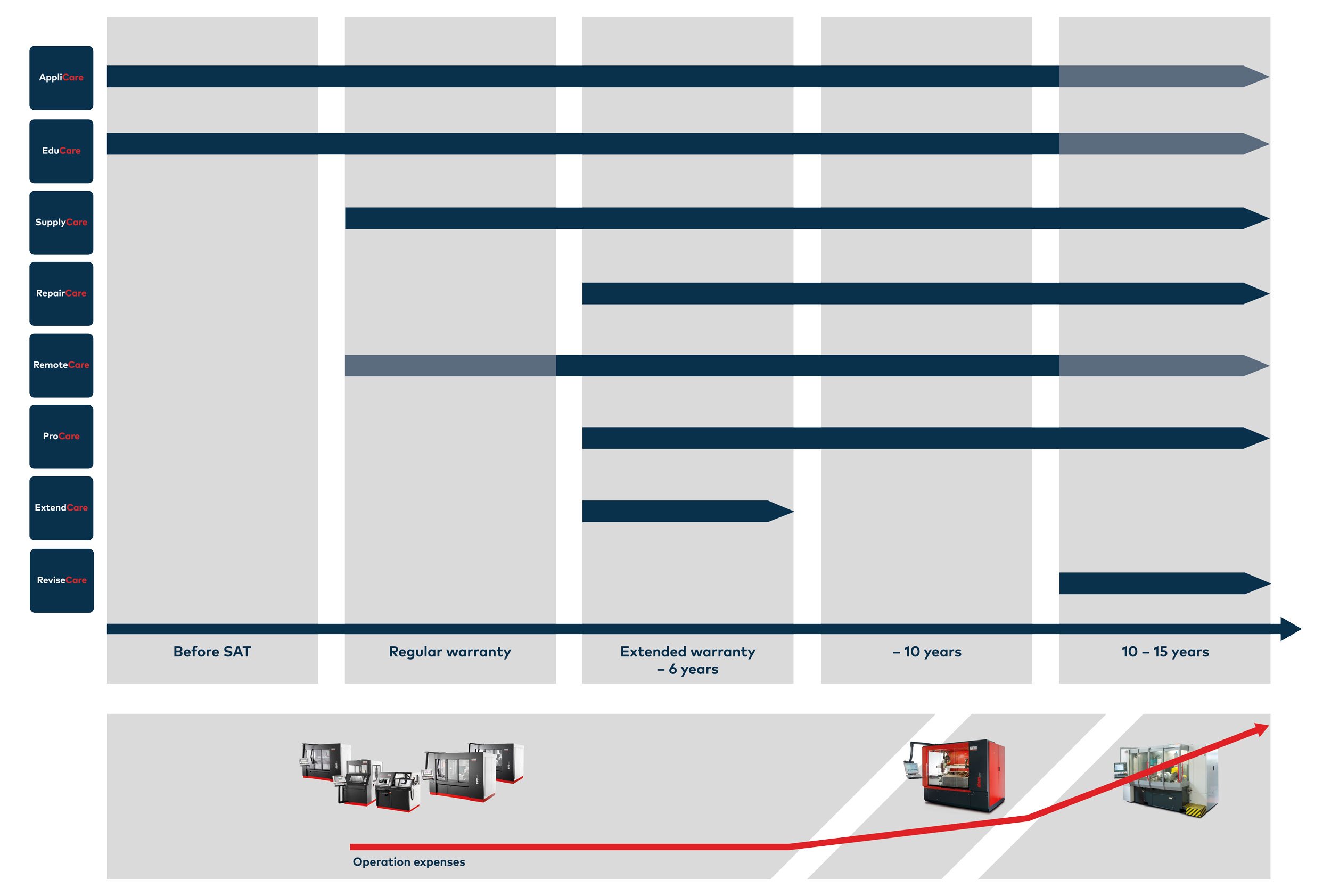 Agathon Care 360 – Overview
Agathon Care 360 is our new 360-degree service for customers with machines of the current series as well as the previous generation:
Current series: Neo | Evo Penta | Evo Combi | Dom Plus | Leo Peri
Previous generations: Dom Semi | 400 Series
Agathon Care includes service modules that can be subscribed individually or in combination of modules. A total of eight service modules are planned:
ProCare | Inspection agreements tailored to your specific needs
ExtendCare | Warranty extension
SupplyCare | Express and return service
RemoteCare | Extended remote support
EduCare | Trainings, Workshops, Webinars
AppliCare | Application support
RepairCare | Extended repair service
ReviseCare | Machine overhauls
ProCare, ExtendCare and SupplyCare are being launched at EMO 2019. The other modules will follow step-by-step.
Get to know the individual Care 360 products
ProCare – Inspection agreements tailored to your specific needs
ProCare for your manufacturing floor
As part of regularly scheduled maintenance inspection an Agathon Service Engineer performs the following
The condition of the machine is thoroughly inspected
The individual machines undergo a functionality test
Machine reference settings confirmed
Grinding of anvil / pivot to determine the current geometry of the machine
Alignment tools are provided free of charge as needed
System back-up of the machine for system rebuild. This data is stored on the Agathon server
ProCare for the PowerGrind option
Annual full comprehensive performance inspection
A follow-up is provided approximately six months after
The inspection is performed by an qualified Agathon service engineer
The full inspection includes the replacement of worn parts as specified in the maintenance kit. A-C2341600 or A-C2341700
The follow-up inspection included the replacement of worn parts specified in the maintenance kit. A-C2473900
ProCare is available packaged with ExtendCare.
ExtendCare – Warranty extension
Complimentary spare parts in the event of malfunction. The defective part must have been installed by an Agathon Service Engineer
DAP delivery of spare parts according to Incoterms 2010
Available in cost-effective annual subscriptions
ExtendCare is available packaged with ProCare.
SupplyCare – Express and return service
Express service
For orders that arrive by 3:30 pm – Central European time – on weekdays spare parts ship the same day. This service is included for machines within the warranty period (including those covered by extended warranty)
Return service
You can return unused spare/wear parts in like-new condition and in original packaging with three months of delivery
Credit will be issued for 90% of the purchase price
Refurbished parts will be also be available for a reduced price
RemoteCare – Professional service from a distance
Remote support
The diagnostic technicians are available during the usual opening hours from Monday to Friday from 08h00 to 16h30 (CET)
With remote maintenance, we directly access the machine on request in case of malfunctions and determine its condition and functionality
The initial analysis is performed by an Agathon technician who helps to maintain production and takes further steps towards complete problem solving
Extended Remote support
Extended availability of the diagnostic service Monday to Friday from 06h00 to 20h00 (CET)
Reliable support in the usual quality at extended working hours
Remote maintenance and support available for two shifts
ReviseCare – Machine revisions to the desired scope
ReviseCare Package I – Factory Overhaul
The ReviseCare Package I includes the full overhaul of your Agathon machine at the manufacturer's factory
The expansion bellows are replaced, a new cable chain is installed. The last version of MMC and CNC computer, as well as a new UPS is installed
The machine axes B, X, Y, S1 as well as U and A, when available, are overhauled
The cooling device is renewed, the newest version of the separating door is installed and if necessary the hydraulic device is replaced
ReviseCare Package II – Basic On-Site Overhaul
The ReviseCare Package II includes a basic overhaul of your machine on site
The basic revision is performed by trained Agathon technicians
The cable chain in the grinding area and the expansion bellows are renewed
The UPSs (uninterruptible power supplies) are replaced
Latest version of MMC and CNC PCs are installed
Working time, travel time, travel expenses and food for the Agathon technician are included
Up to the introduction of all Agathon Care 360 service offerings, we also offer our proven customer services for machines of the current series and previous generations.
Trainings
Mechanical training
Electrical training
Application training
Application technology
Professional knowledge
Programming assistance
Process support / development
Grinding test
Do you have any questions? We are happy to help you.