Neo = Increased productivity due to laser pre-processing of superhard materials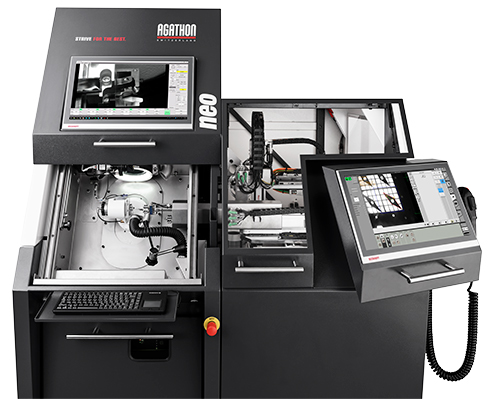 Laser roughing of superhard materials
Pre-processing the periphery, clearance angles and chip breakers on PCD and pCBN indexable inserts and other superhard materials.

Innovative concept
6-axis machine. Developed and optimized for laser processing.

Compact and reliable
Small footprint. Integrated particle vacuum and machine cooling. Designed for thermal stability.

Matching automation
The Neo uses the same tools, attachments and trays as the Agathon grinding machines. Space provided for two trays.

Convenient and ease of use
Same HMI as the Agathon grinding machines. The Neo can be set up and operated from different angles using the hand-held panel.

Ergonomic design
Convenient and safe side loading and unloading.
Combined process
Tungsten carbide workpieces, in particular indexable inserts with superhard tips (PCD, pCBN etc.) are lasered near to the final dimension and finally processed on the grinding machine. Compared to grinding, the Neo laser has an approximately 100 times higher removal rate when processing superhard materials.
Advantages of the Neo concept
Ideal combination of tremendous machining speed and perfect surface quality
The combined process of laser processing and grinding is faster than other established processes
Considerably reduced costs for consumables when grinding the superhard material tips
Reasonable investment costs for laser processing
The Neo is extremely compact with a footprint of about 1 m2

(with automation unit around 2 m

2

)
Neo - the complete machine
Laser Roughing machine for superhard materials (pCBN, PCD)
Processing the periphery, clearance angles, chip breakers and laser marking on indexable inserts
Greater efficiency due to automatic loading. Also available without automation unit.
Compact and open design for best accessibility and ergonomic comfort
The Neo can be set up and operated from different angles using the hand-held panel.
Three mechanical axes and three optical axes
Technical data
Axes Machine


_


Automation unit
3 mechanical axes (Z, A, B)
3 optical axes (X, Y, Z)
6 mechanical axes
Application
Periphery, clearance angle,
chip break

ers & laser marking

Dimensions
Machine
Automation
(L x W x H)
1.40 m x 0.76 m x 1.60 m


1.47 m x 0.91 m x 1.58 m

Weight
600 kg | without automation


1200

kg | with automation

Clamping device
B3 clamping device
W25 clamping

chuck

Suction device
integrated
Cooling unit
integrated
Number of trays
2
Type of trays

All current trays
Options
Clamping system HSK E25 (manual loading)
Unmatched advantages – greater benefits
Highly productive and matched to one another
The machine concept ensures efficient laser processing and can be combined with tried and tested automation
Significantly faster processing of carbide inserts with superhard tips (pCBN, PKD)
Reduction of the effective processing time up to 40%
Handling, handling tools, attachments and HMI are industrial Agathon standard
Set-up and operation made simple
Easy to use without prior knowledge in laser processing
Short set-up and changeover times due to intuitive HMI and functional hand-held terminal
Easy programming with largely standardized Agathon User-Experience
Outstanding accessibility for easy loading and unloading as well as maintenance
High autonomy and outstanding results
High production autonomy through efficient automation which can be fitted with up to two trays
After processing, the workpieces can be stored in the initial tray as well as in the alternative tray
Optimized for high thermal stability and thus for a stable production environment and perfect quality of parts
High production reliability thanks to its industrial laser source
Compact and flexible
Neo with the automation unit together require just about 2 m2

of floor space
Only power and pneumatic connections (with automation) are required for the operation
The Neo concept integrates itself perfectly into today's production environment
The automation unit can be attached at a later time
Any questions? We are happy to help you.