Höchste Präzision ist auch für Oliver Müller von grösster Bedeutung. Umso begeisterter war der
Leiter Werkzeugservice der STOCKO CONTACT, als er die neue Agathon Systemführung das erste Mal einsetzte.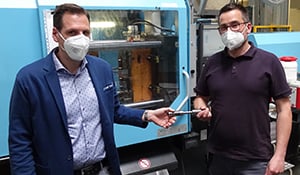 "The number of benefits clearly outweighs the disadvantages. If you analyze production with the retooled mold, in terms of burr formation on moldings or seizing of centering inserts, these problems no longer exist."

After the first weeks in full production use, Mueller is convinced that the Agathon Guiding System Plus will find its way into the specifications of new molds as a future standard solution.