We look back on an exciting and successful trade fair, where we welcomed a large number of interested visitors and had stimulating discussions.
We were extremely pleased about your visit. Thank you very much for taking the time for us at EMO 2021.
We hope that you had a safe journey home and look forward to joint projects with you.
We will be in touch with you again shortly to provide you with the information we promised you at the booth.
For everyone who unfortunately didn't make it to the fair, the Agathon team has prepared a short review: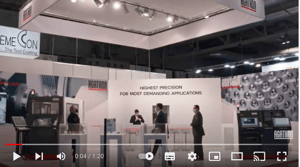 Our presentation in the field of machines
Neo: The highly productive, fast and efficient preprocessing of super-hard materials is no problem thanks to the powerful laser. Our Neo is available both with and without automation.
Leo Peri: This 4-axis grinding center for machining indexable inserts on the circumference and grinding chamfers enables maximum productivity in the smallest of spaces.
Our presentation in the field of standard parts
Guiding System Plus: The Agathon Guiding System Plus is a reinterpretation of existing guide and centering systems that cleverly combine the guiding and centering of the mold halves in one.
Online standard parts catalog: We also presented our digital standard parts catalog with which you can put together your own personal product catalog.
Would you like to find out more about our products and personally ask questions to our team? Then visit us at the next trade fair!
You will find more informations about our next trade fair on our website: agathon.ch
We look forward to your visit and stimulating discussions at the next trade fair.