Use the time of reduced production to have your Agathon machine collected and overhauled by us, or to have it analyzed by remote access. Even in times when social distancing is required, you will receive the quality service from Agathon you have always relied on.
ReviseCare, with replacement machine on request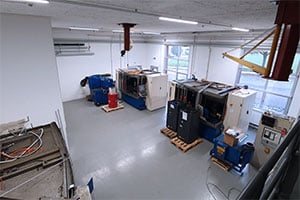 As part of our ReviseCare service, Agathon removes your 400 series machine from your premises and brings it to our , located in Solothurn, Swtizerland, where it will be thoroughly overhauled by Agathon engineers. This includes: software update, replacement of the expansion bellows, installation of a new cable chain, the newest version of the MMC and CNC computer, a new UPS and an overhaul of the mechanical main components. More information.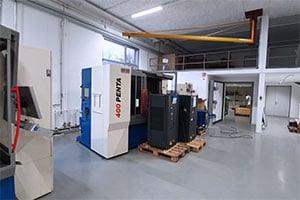 An overhaul does not only increase the service life of your machine, but also increases its availability. The big advantage - you get back your well-known machine, with which your employees are very familiar in terms of operation, programming and maintenance, with the most up-to-date equipment. This keeps training costs to a minimum and spare parts are available for a longer period of time. As an option, we can provide you with a replacement machine for the time of the overhaul. This minimizes the downtime and you can put your factory overhauled machine into operation at the appropriate time.
RemoteCare: Professional service from a distance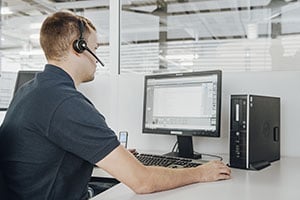 As part of our RemoteCare, we analyze and report the condition of your Agathon machine from the 400 series upwards, now also with remote maintenance. Technical problems can be solved directly and the requirement of social distancing can be observed optimally in every case. If the analysis determines defective individual parts, these are quoted and can, in most cases, be delivered from stock. Depending on the complexity and training level of your maintenance staff we can also offer guided remote installation. However, should you need an Agathon specialist on site; we will schedule him according to the recommended regulations. This way you will be best prepared for the time after the COVID-19 precautions are lifted and you will certainly have the required spare parts on site. More information.
Training courses for your maintenance specialists will be available again in our company, as part of our EduCare service offer, as soon as the travel restrictions are lifted.
Contact us for a non-binding offer or to clarify your questions.