BSW Zerspanungswerkzeuge GmbH, based in Germany, is one of the largest independent manufacturers of cutting tools made of high hardness materials. The product range of BSW GmbH covers CBN - PCD - CVD-D as well as carbide tools in the standard as well as in the special range.
For the ever-changing requirements of machining technology, BSW offers individual, technically sophisticated solutions. And, in order to bring the superhard materials used into their intended shape and sharpen them, BSW uses Agathon's powerful and precise machines.

Reason enough to ask our long-standing customer BSW about the new experiences with the Agathon Neo for laser pre-machining of superhard materials!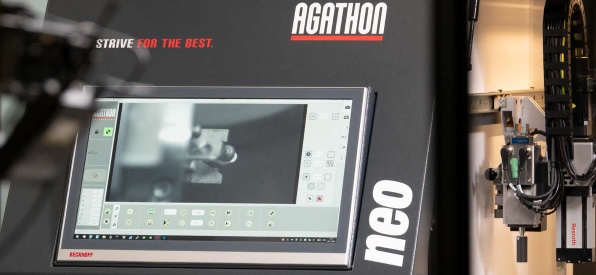 Interview with questions from Simon Girardin, Agathon Sales Manager Machines Europe and answers from Markus Binzel, CNC Department Manager at BSW GmbH:

Simon Girardin: "Mr. Binzel, glad you could make it and share your experience with us. Customer feedback is enormously important for us, as we always want to further develop and optimize our machines. Thank you in advance for supporting us in this. Let's start directly with the first question:
"What benefits or improvements have you gained with the Neo?"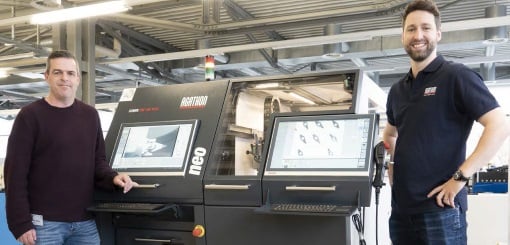 Left: Markus Binzel – BU Manager Production / QMB at BSW, right: Simon Girardin – Sales Director Machines Europa / IL / RU at Agathon AG.
Markus Binzel: "Above all, the time saved in the grinding process by pre-laser cutting is a real benefit. With normal circumferentially ground plates, the time savings are around 20 to 30 percent. The time savings for special plates may well be somewhat higher. This also increases our productivity. It's not for nothing that they say "time is money". Compared to conventional grinding, the Neo-Laser has a removal rate that is about a hundred times higher when processing superhard materials.
Furthermore, we have a considerable cost saving in consumables. Above all, the need for grinding wheels has been reduced, enabling us to work in a more resource-saving and material-efficient way.

Process stability and reliability in finish grinding have increased greatly as a result of pre-lasing with the Neo. This is mainly due to the fact that the pre-lasered workpieces only show minimal fluctuations.

Another big plus is that the Neo opens up completely new possibilities for us:
In the future, we want to use the machine to laser screw holes in carbide inserts.
In addition, we will be able to laser chipbreaker geometries very quickly and in the required quality with the Neo in the future."
Simon Girardin: "For which workpieces or tasks is the Neo used?"

Markus Binzel: "The Neo is currently used for PCD plates in both the standard and special areas. At the moment, the machine is used exclusively for roughing. The majority of all PCD workpieces produced at BSW on the peripheral grinding machines are pre-machined on the Agathon Neo. Plates ground on other machines are 40 to 50 percent pre-lasered.

In these work processes, we benefit from the compact and ergonomic design of the Neo and its good accessibility. Operation is very pleasant, and setting up different positions is also convenient and user-friendly. Programming is simple and very clear with the uniform Agathon user experience. Since we already use other machines such as the Evo Combi, the Leo Peri and the 400 Penta from Agathon, we are already very familiar with the interface."

Simon Girardin: "How reliable do you consider the Neo to be?"

Markus Binzel: "The Neo is really highly reliable. There are hardly any breakdowns anymore. The machine is also in perfect working order over the weekend. Reliability has improved a lot over the past few years. It is optimized for high thermal stability, which ensures a stable production environment and perfect part quality. All handling tools, attachments and the HMI have the industrial Agathon standard, so they are of top quality, hard-wearing and optimally matched to each other."

Simon Girardin: "In your opinion, what are the strengths and weaknesses of the Neo?"

Markus Binzel: "The strengths of the Neo clearly include its low running time, impeccable reliability, impressive accuracy, and uncomplicated changeover. It is also ideally suited for special plates. Another attractive feature is the efficient automation unit, which can be retrofitted at any time and allows investment to be made in line with demand. It can be loaded with up to two pallets.

The extraction system could be seen as a weakness. The deposits that result from laser cutting have to be cleaned briefly by hand in between - a minor flaw that does not weigh heavily in view of the many advantages. A solution for this would possibly be a nozzle that briefly blows on the mask in the direction of the suction after each plate."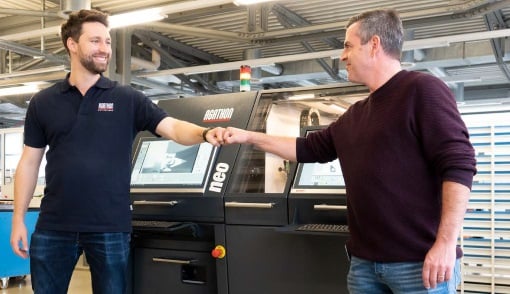 Simon Girardin: "Mr. Binzel, thank you very much for your feedback. We are pleased to be able to enrich your production with our Neo and thank you for the helpful comments."