In spring 2019 Agathon delivered the first Neo laser processing machine to the USA – to the Shape-Master Tool Company in Kirkland, IL. We look at why the company invested in our pioneering laser machine and why the Neo is a key factor for achieving a successful production process.
Tool manufacturers who machine super-hard materials such as PCD or PCBN, do this most efficiently in a two-stage process: they start with roughing with a laser and finish with a high-end grinding machine. At any rate this was our view, which we implemented with a groundbreaking development. The Neo is the ideal machine for combining enormous machining speed and perfect surface quality. This is underpinned by results from field tests, which also convinced the decision-makers of the US Shape-Master Tool Company to be the first company in North America to invest in a Neo laser processing machine.
Special thanks to Don Spolum, CEO at Shape-Master Tool, who answered our questions for this interview.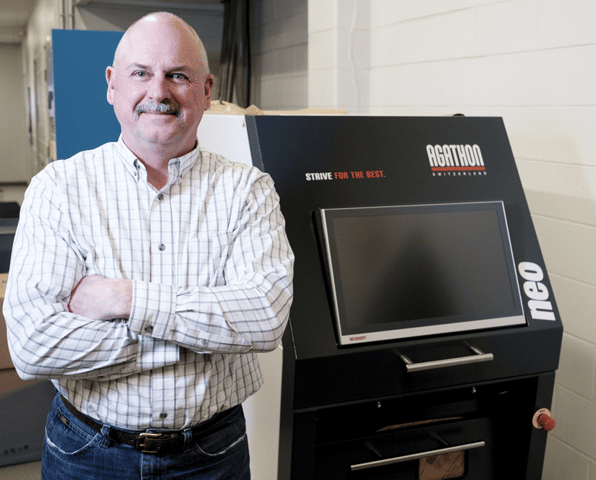 Let's talk about the Neo. With this investment you didn't just choose a machine, but also the combined process of laser roughing plus finishing on the grinding machine. Why?
«It has to do with our mindset. We are always looking for new ways to handle customer orders quickly and efficiently. So if the combined process of laser roughing and grinding helps us to reduce cycle times across the entire production process, then that is very welcome. Cycle times are money.»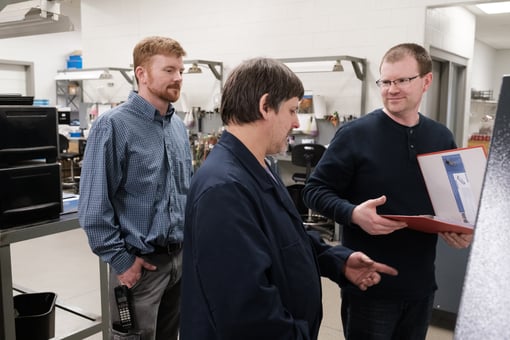 from left to right: Scott Chambers – Engineer, Dan Farris – Maintenance Manager, Dan Chambers – Head of Sales and Application Engineering
How do you manage to make your delivery times so much quicker than other suppliers?
«Our specialism is customized tools. We produce the right cutting edge, the right geometry and the most efficient solution for each application. In these orders we can utilize our flexibility, and we can generally deliver twice as quickly as other suppliers. We succeed here because we are always on the lookout for the most productive systems and have one of the most modern machine pools in North America. This means we can supply our customers with the best tools within a short time.»
Is this why you chose the Neo laser processing machine?
«Exactly. In the past we have frequently been the first company to launch the newest technology in our market. We are constantly striving to improve our production processes, so that we can manufacture cutting tools of the highest quality.»
Will you also use the Neo to machine other super-hard materials as well as PCD?
«We manufacture tools from both PCD and PCBN. In this respect we don't just use the Neo for pre-processing PCD, but it also helps us with a variety of PCBN applications. We are always open to learning and seeing new things. The more we know, the better our decisions are and the more efficiently we can produce. Our customers benefit from this.»
Did Shape-Master have any arguments against the Neo before making the decision to invest?
«No, not really. There was one point that we discussed critically at the time. This concerned the manual operation of the machine. This makes sense for small series. But if we are talking about lot sizes of several hundred tools, there is no alternative to an automation solution. Having recognized this – Agathon delivered the fully automated solution shortly after our purchase. We can now utilize the machine's full efficiency. »
The Neo has already been in production for three years. How satisfied are you with it?
«We are very satisfied with the Neo. It runs extremely reliably and can be set up quickly. If any deviations occur during automated loading, the image processing system makes the necessary corrections to maintain a uniform, reduced allowance for the soldered-on PCD tips. We can also say that the Neo has become much better in production since it was first set up. Agathon has made a number of improvements in terms of user-friendliness.»
How do you find working with Agathon?
«Well, I think our shared history speaks for itself. We had the first 350 Combi EcoDress and the first Evo Penta here in the USA. We work well together and have a friendly relationship. But the most important things for us are the service and the response times. Of course there are also other good machine manufacturers on the market. But are they able to react quickly if required? Are they able to ensure that the machines are operational? Agathon offers us the service that we need. We greatly value our collaboration.»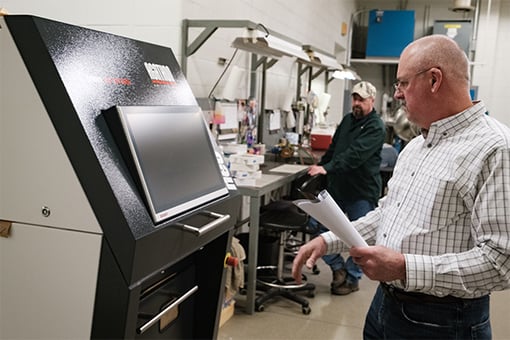 President Don Spolum with the new Neo laser processing machine
Discover the diversity of NEO in our application examples and download our flyer.
Shape-Master Tool Company
A leading manufacturer of polycrystalline cutting tools, the family-owned company has cutting-edge, high-precision technologies and qualified technicians, enabling it to maximize efficiency in tool manufacture.
For more information: www.shapemastertool.com